Skip to Content
Tree Removal Services in Salt Lake City, UT
Quality, Reliable Tree Removal Services
If you own any type of landscaping, you'll most likely need professional tree removal services at one point or another. Whether a tree is old, rotting, or poses a threat to the nearby environment, hiring an expert tree contractor is the safest way to take it off your hands and ensure the most successful results.
At Amen Trees, we've been serving Salt Lake City with top quality tree care services since 2011. Our arborists are not just well-trained, licensed, and highly experienced—they're dedicated to serving you an efficient job with flawless results. We don't just remove trees here at Amen Trees, but we do so with care and precision to not harm the surrounding plants, structures, and people.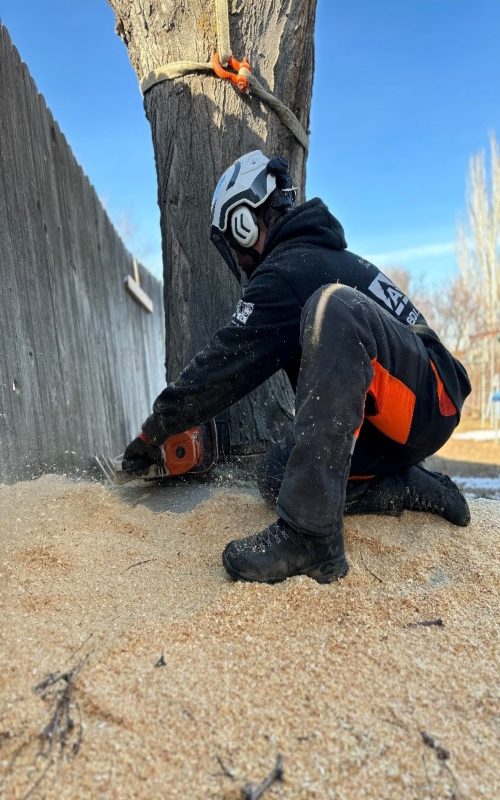 When Do You Need Tree Removal?
There are many reasons why you may need to get rid of a tree on your property. Whether you want to free up space in your yard or eliminate a hazard to your home, family, or other plants, professional tree removal services are the best and most risk-free way to do so.
These are the top reasons to consider hiring a licensed arborist to remove your tree for you:
The tree is too close to your home, pool, or power lines and poses a threat to your well-being.
The tree has weak or dead branches that could easily snap off and hurt someone.
Dead bark on the tree is flaking off in sheets.
The tree is leaning and in danger of falling over.
The tree is infested with vermin or pests that could affect the health of people nearby.
The tree has an untreatable disease.
The tree was struck by lightning or damaged from a storm beyond repair.
The tree trunk is hollow.
Standard & Large Tree Removal Services
There's no project too big or too small for us here at Amen Trees. For large and heavy trees or for a risky job involving power cables and the like, consider tree removal crane services over the regular kind. We proudly feature a 41' crane that can take on trees of any size.
We boast years of experience removing trees, but that's not all we do. At Amen Trees, we also offer trimming and pruning, and stump grinding and removal for your convenience so that all your tree needs can be completed with ease and no stress on your end.
The Dangers of Attempting to Remove Trees Yourself
Unless you are trained, licensed, and experienced at removing trees yourself, it's essential to leave the job up to a professional. Removing heavy branches is risky not only for the person doing so but for anybody nearby, too. Plus, removing roots effectively takes a level of skill only an arborist can provide. When you hire an expert tree contractor, you'll be guaranteeing the safety of others and you can count on a job well completed with no trace of the tree left behind.
Contact Us to Learn More
Since 2011, Amen Trees has satisfied countless residential and commercial customers with exceptional tree removal services, and we'd like to do the same for you! We're passionate about completing each project perfectly, which is why we do an onsite assessment before starting the job to ensure the best possible results. Reach out to us today to learn more or to get a free estimate.
Contact Amen Trees for a Free Estimate!