Skip to Content
Schedule a Free Tree Care Solution Estimate
Let's Talk About Your Trees!
If you have trees to take care of, we can help. At Amen Trees, we proudly offer high-quality and comprehensive tree care solutions so that all your tree needs can be met in one convenient place. Thanks to our expert team of arborists and state-of-the-art tools and supplies, we'll leave your landscaping looking polished and pristine without damaging the trees or their surroundings.
We've been helping Salt Lake City take care of its trees with integrity and dedication since 2011. Starting from humble beginnings stacking loads onto our truck by hand, we now boast a crane and a full roster of hundreds of satisfied clients. Despite our company's growth and success, we still feature the same level of client commitment that we had since day one.
About Our Unrivaled, Full-Service Tree Care Solutions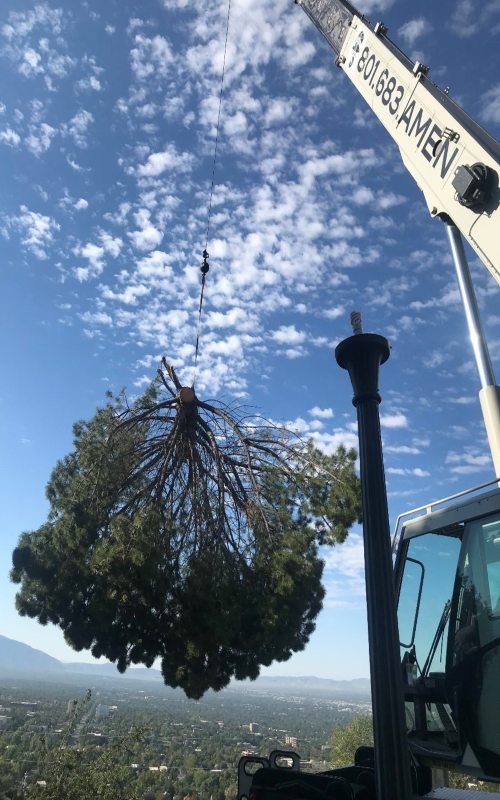 For tree care solutions you can trust, turn to our team at Amen Trees. All our comprehensive services are executed by trained and licensed tree care contractors with passion and precision. We won't only provide you with the best services around, but we'll also offer a free estimate and do an on-site assessment beforehand to ensure a job well done. Plus, we take care of the cleanup afterward so there won't be any effort needed on your end!
The full-service solutions we feature include the following:
Tree Removal: Trees may need to be removed due to age, poor health, or size. Our tree removal services effectively clear out problematic trees without affecting their surroundings.
Tree Trimming & Pruning: Our tree trimming services won't only leave your garden looking like a masterpiece but will also enhance the health of your trees. Quality trimming and pruning require years of experience, and our skilled team boasts just that.
Stump Grinding: Stump grinding is an essential part of tree care for a variety of reasons and requires a certain level of proficiency only found in trained arborists. We'll safely and effectively complete the job!
Crane Services: We can take on even the biggest projects thanks to our durable 41' crane that's able to reach the tallest trees in Utah. You won't need to worry about the safety of your family, your house, or your other trees because our expert contractors all feature extensive experience and training to provide a quality and risk-free job.
Shrub Trimming: Shrub trimming ensures your shrubs will flower and helps prevent diseases and pests from affecting your shrubs and the rest of your yard.
Contact Amen Trees Today for a Free Estimate
For any assistance you need with your trees across Salt Lake City, UT and the surrounding areas, don't hesitate to reach out to the experts here at Amen Trees. We help hundreds of clients a year with our exceptional tree care solutions and would be happy to serve you next!
To learn more about our unmatched services, request a free estimate on your project, or schedule an on-site assessment, fill out the form below and we'll get back to you as soon as possible.
Let's Get in Touch!
Ready to start your next project with us? Send us a message and we will get back to you as soon as possible!
Contact Amen Trees for a Free Estimate!