Skip to Content
Crane Services in Salt Lake City, UT
Crane Tree Removal Services
Here at Amen Trees, we can help you with high-quality tree removal services for trees of all sizes with our state-of-the-art 41' crane. Cranes don't only help us reach the tallest trees in Salt Lake City—they also offer increased safety and precision when removing heavy and large trees for a more effective outcome that doesn't harm the surrounding environment and the people in it. If you need a tree removed either because it's too big, it's in poor health, or it's aged, don't hesitate to reach out to us today for a free estimate on our services.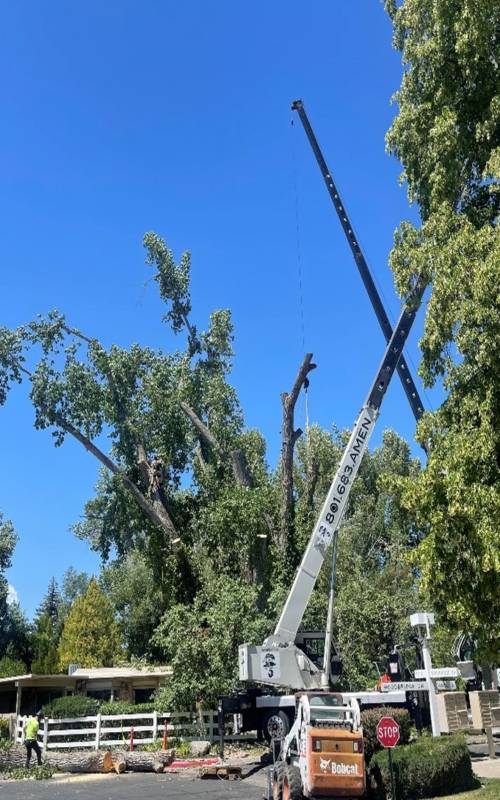 We Do More Than Tree Removal
We don't just offer outstanding tree removal assistance here at Amen Trees. We proudly and conveniently feature comprehensive services for all of your tree needs. Our full-assistance tree care solutions include all of the following:
Crane Specialists
If you choose to hire our professional crane services to remove a tree on your property, you can rest assured that you'll be receiving the finest tree care solutions in the city. Our trained and experienced tree contractors always put in 100% of our effort to ensure a high-quality end result, which is why we're the leading tree care solution company around. Plus—with our crane—your family, home, and the trees and plants nearby will remain unharmed.
Using a crane to remove a large tree requires a certain level of expertise. However, if you feel qualified to take on the project yourself, you can rent our 41' crane for your personal or professional use at a lower rate than what we can provide with the aid of our arborists.
Benefits of Crane Tree Removal
If you need an unstable, old, or rotting tree taken out, we highly suggest considering crane removal services to do so. This option boasts a range of benefits, which include:
Increased Safety: Cranes are the safest method to remove trees for a number of reasons. To start, they're able to access tough-to-reach spots that manual labor alone wouldn't accomplish. They can also safely lift the weight of heavy trunks and branches while posing less risk than standard tree removal, which involves cutting and dropping. Finally, cranes can access dangerous areas—like around power lines—without harming anyone nearby.
Lower Cost: Cranes can be more budget-friendly than a normal tree removal procedure because they're quicker at completing risky jobs that would otherwise take hours of careful execution if completed fully by hand.
Improved Efficiency: Using a crane to get rid of an unwanted tree takes some planning, but when it comes time for execution, the project gets completed much faster than it would manually.
Call Amen Trees Today for a Free Quote
Amen Trees has proudly been serving Salt Lake City with unrivaled tree care solutions since 2011. If you're in need of professional crane services for a project of any size, we'd be happy to help. Our licensed and trained contractors are highly qualified to complete the job safely and seamlessly. To learn more about how we can assist you with your unique needs, contact us today for a free estimate.
Contact Amen Trees for a Free Estimate!