Skip to Content
What to Expect When You Choose Crane Tree Removal
No matter the size of your tree or your property, our professional tree experts at Amen Trees can provide safe, reliable tree removal services in Salt Lake City using our 41' crane. For large, heavy trees, tree removal services using a crane are much safer and more effective for everyone involved. When you choose us for professional tree removal services, we will ensure that your home, family, surrounding structures, and other plants and trees will remain safe and unharmed during the tree removal process. We have been operating our tree services business in Salt Lake City since 2012, and our tree experts have extensive training and experience in safely removing large, heavy trees using our crane. Before committing to using our tree removal services, we can come to your home and evaluate your trees and the landscape and develop a plan of action. We can then give you a quote for the time and cost of our tree removal crane services.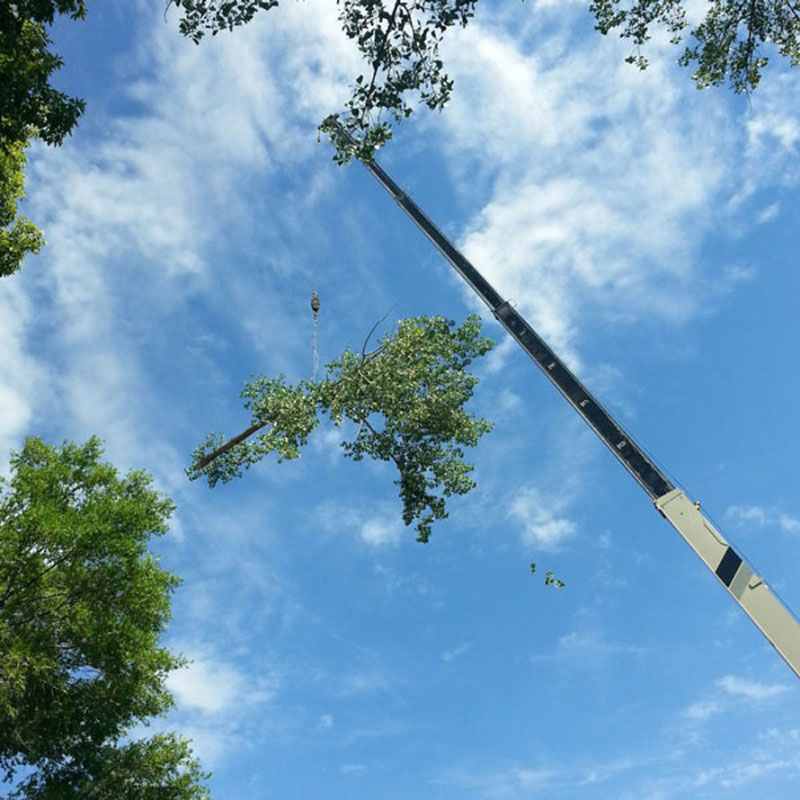 We Do More Than Tree Removal
At Amen Trees, we do more than tree removal. We offer comprehensive, reliable, and professional tree services throughout Salt Lake City, including tree trimming services, tree pruning services, stump removal services, and stump grinding services. We can also rent out our 41' crane to customers who want to use it to complete their own personal or professional landscaping jobs. Click on each of the services below to learn more about how you can benefit from hiring the experts at Amen Trees for your tree services in Salt Lake City:
Tree Removal – Our professional arborists specialize in any size tree removal. We can safely and efficiently remove dead or unwanted trees without damaging the surrounding landscape.
Tree Trimming & Pruning – Our tree care and maintenance services include tree trimming, pruning, tree health checkups and diagnostics, and the treatment and prevention of tree diseases and pests.
Stump Removal & Grinding – After tree removal, we can provide complete stump removal and stump grinding services to create space, prevent vermin and pest infestations, and improve aesthetics.
Get in Touch With Our Tree Experts Today
Our highly trained professionals are ready to provide high-quality solutions for your tree care and other outdoor needs. If you are interested in utilizing any of our professional crane services, give us a call today. Our team would be happy to discuss your unique situation and help you find the best path forward.
Contact Amen Trees for a Free Estimate!