Skip to Content
Tree Trimming & Pruning in Salt Lake City, UT
Professional Tree Trimming & Pruning Services
For Salt Lake City's best tree trimming services, you can count on us at Amen Trees! We've been in the business since 2011 and have proudly built a long list of satisfied customers. We go above and beyond to complete each trimming and pruning project with extreme care to leave your trees healthy and your landscaping looking flawless.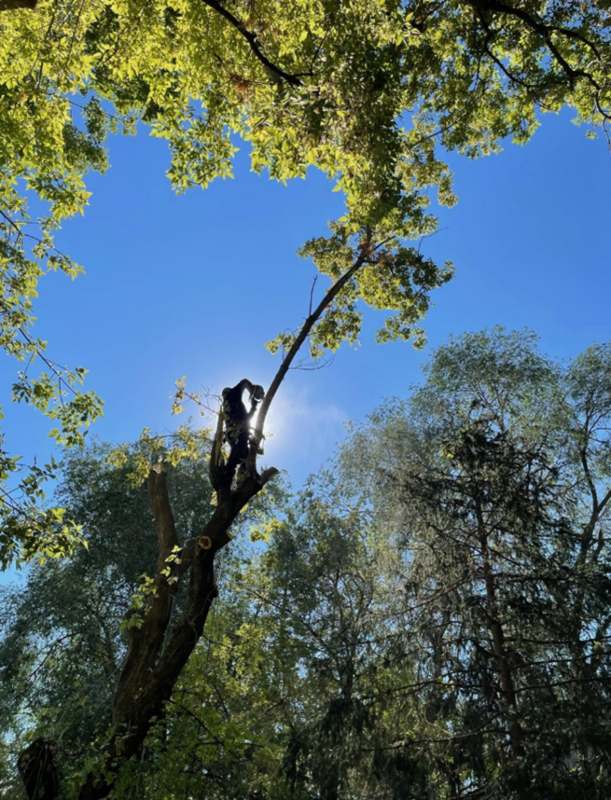 Why Tree Trimming Is Important for Your Trees
You might assume that professional trimming services are just meant to keep your lawn looking manicured, and while they absolutely do so, that's not the only reason they're needed. Trimming and pruning also optimize the health of your trees and minimize the risk of branches or twigs falling and injuring someone nearby. At the same time, arborists will check if undetected insects or diseases are eating away at your tree without you realizing it.
To enhance your tree's health while ensuring your safety and having an enviable yard all at the same time, you should keep up with trimming and pruning once or twice annually. Here in Salt Lake City, our snowy winters pose an extra threat to weak trees. The weight of the snow easily snaps off poorly supported branches, threatening the safety of your family, so we highly suggest hiring an experienced arborist to clear out your tree's dead weight before the temperatures drop below freezing.
Benefits of Trimming & Pruning Your Trees Annually
In addition to creating a beautiful environment to enjoy on your property, tree trimming provides a wide range of health and safety benefits. With proper care, your trees will sustain on your property for years to come. You should provide them with regular maintenance and care to protect their health long term. Trimming your trees with the help of our tree care experts offers the following benefits:
Enhance your trees' exposure to sunlight
Match the surrounding landscape
Shape trees in your preferred style
Offset root loss
Detect and treat diseases early on
Increase your curb appeal
Difference Between Trimming and Pruning
People often confuse tree trimming and pruning as interchangeable but they're actually two entirely different services that are combined together for a more comprehensive job that guarantees your tree's health and aesthetics simultaneously.
Essentially, tree trimming services are like a routine checkup for your trees. You can count on the procedure to both cut deadweight and improve the appearance of your trees. On the other hand, tree pruning services are a full-scale diagnostic job that confirm the total health of your tree, including any diseases it may be experiencing. We go the extra mile to ensure your landscaping is top-quality, which is why we always combine the two services.
Tree Trimming Facts
Tree trimming and pruning can help to achieve all of the following:
Crown reduction to decrease the height of your tree.
Crown thinning to improve your tree's structure.
Crown lifting to remove low-hanging branches.
Tree pollarding to maintain an ideal size.
Regular trimming to boost health and appearance.
Why Call the Experts to Trim Your Trees?
Pruning and tree trimming services are best completed by experts who are licensed and trained to do so for a variety of reasons. Each tree and project are unique, so we always run an onsite assessment before getting to the actual work in order to optimize safety and secure the best possible outcome. Professional trimming services and pruning take years of experience to complete accurately, so it's wiser to call a professional than attempt to do the job yourself.
Request a Free Estimate With Amen Trees Today
At Amen Trees, we boast the best professional trimming services in Salt Lake City thanks to our extensive experience, high-quality tools and supplies, and unmatched dedication. Contact us today to learn more about our outstanding services, schedule an onsite assessment, or get a free estimate on your job.
Contact Amen Trees for a Free Estimate!